Posts: 6658
Joined: Fri Jul 04, 2008 09:52
Location: from Liverpool / in Edinburgh
Contact:
that's worthy of both guffaws and applause, that

bravo!
halo my middle, a hula hoop hug
---
Posts: 3469
Joined: Fri Sep 28, 2007 18:13
Last.fm: http://www.last.fm/user/
Location: Auld Reekie
Contact:
fogofideas wrote:
bobby gillespie, himself, called them 'alright, ok, I suppose' when pressed in 1985 and a queue of bands who you respect vastly out of proportion with how much they respect you back namecheck this band whenever and wherever a blogger begs an interview (most likely via their myspace page) from them and asks with inevitability 'so, who influenced you?' and then more often than not the name of the paisleys is mentioned... if that band (let's call them 'come again') remember
this made me do a roflcopter.
---
Murray
I'm sure I saw The Paisleys in 1986 playing with the Laurel Girls, Umpteen Sticky Eccles Cakes and The Orchards. Duglas from BMX Bandits jumped on stage and played air tambourine during their closing number, Indiepop Angel. It was a right hoot. Probably.
---
sing hallyloo-hallylay, it's that time of year again when music journalists thoughts are of going home to mum, getting a nice cuddle off her, opening pressies on christmas morning all toasty warm surrounded by people who love them very much (mum, the cat, uncle terry but he's not really an uncle and the lady who comes in and irons) and a paid for lunch and tea
before then of course there's a whirlwind of parties and cocaine for them to look longingly at from afar ('perhaps I should have got a job in the city after all' they pine)
how else to make money by the word but to type a 'will this do?' end of year round-up, perhaps of bands who will 'make it big' next year, that'll fill some space and might make them look sage-like and 'with it' should anyone ever refer back at some point in the future
a future race of beautiful nude space princesses, perhaps? who'll have a time machine and visit from the future to take him with them into the future to be their sex king for being so right about that band he said would be quite good and were (imagine what he must be like as a lover, imagine how deft his touch might be given his reasoning for spotting bands to watch and that)
oh, alright then...
fingers akimbo
it's dubstep meets a sort of animal collective vibe with some witch house thrown in and these two crazies sure know how to bring the ruckus, daddio- imagine a sycodelic (sp?) tinie tempah (he's dubstep, isn't he? probably a bit too chart) locked in a barn eating mushrooms
jeff knows them and I fancy the girl on reception at their record company
tapestry
jocasta, penfold and listeria met at college and discovered a mutual love for illegal downloading
'it was easy, it was cheap, go and do it' they say because they've read all the books and are terribly knowing
you can probably figure out what they sound like: sixties girl groups, the marychain, the shop assistants...
'the thing is...', says listeria pausing to light a slim and tiny cafe creme cigar, 'we wanted people to like us, specifically men in their thirties or early forties who aren't quite prepared to grow up yet, so appealling to them and their adolescent fantasies of feedback, sunglasses after dark and spector walls of sound meant we'd get some critical acclaim without really having to do very much'
'albeit on blogs read by other men in their thirties or early forties', says penfold who asks me to write that he's also smoking
'albeit', nods jocasta sucking a rude lolly
I buy them a round of drinks (naturally we're in a pub, during the day, mad), a dubonnet and lemon for listeria, a pint of marsdens pedigree for jocasta and a sloe gin for penfold or 'penners' as I've taken to calling him as a bit of banter (for a joke he pulls a cross face every time I say it), perhaps they will remember me next august when they are friends with alexa chung
'before you know it' says listeria very much the brains of the group even though she's a girl, 'by word of mouth and advertertising hopefully it's not just these sorry old farts who like us, it's kids too, not children, I mean adolescents- which these days can be anything from 12 to 31'
good plan, I think... I'm as jaded as they are
shimmer
at last a band in thrall to the flatmates, brilliant
'no, we are a cabaret chicken in basket band from seventies, you find picture on internet in a future we can't even imagine' says vibes player, rimsky-korsikan
just go with me, I say, the flatmates were a band from bristol in the eighties
'but that not us' says rimmers (as I've taken to calling him in my banterish way)
yes, you are a flatmates inspired band, I tell them (in my mind), it's brilliant
'no'
glad
'you must be
glad
to be here', I say wittily as I meet tom and ed from the band glad in london's popular neasden high street
'yes, we are really, we mostly play in and around our home town of swindon so getting out to the smoke is great, I mean we're so pleased to be asked to come and play here', says tom eating a dairylea triangle
'you could say you were
glad
to be asked', I say nudging them with my elbows (I'm sat on the pavement between them)
'we're more than that, we're really really pleased, we've wanted to play london for months, it's nice to be asked', says ed feeding some pigeons with the torn off crust of the sandwich I've bought for the pair of them
'you must be
glad
to have been asked', I laugh slapping my thigh and indicating quite obviously that what I am saying is a hoot
'mmm', they say, eating contemplatively and hungrily
I think of another funny one, 'are you
glad
to be gay?', I burst, tears literally rolling down my face
'you what?', they both say
glad, classic songs, jangly guitars but typical humourless thick as shit northerners
I don't know why I bother
---
Posts: 6658
Joined: Fri Jul 04, 2008 09:52
Location: from Liverpool / in Edinburgh
Contact:
tremendous

and depressingly accurate

*ponders*

*sighs*
halo my middle, a hula hoop hug
---
Murray
Great stuff, Andy. Had me chuckling away at my desk. It can't be long until you're officially listed as a National Treasure or something, surely.
---
I saw these and I thought of this and I'm posting and reposting these around and about the 'net like a man possessed

lovely stuff



---
Andy Zorkestra and his Orchestra.

This thread makes my face hurt.
My apple pies go off today.
---
I think I broke that Coachella thing that's doing the rounds: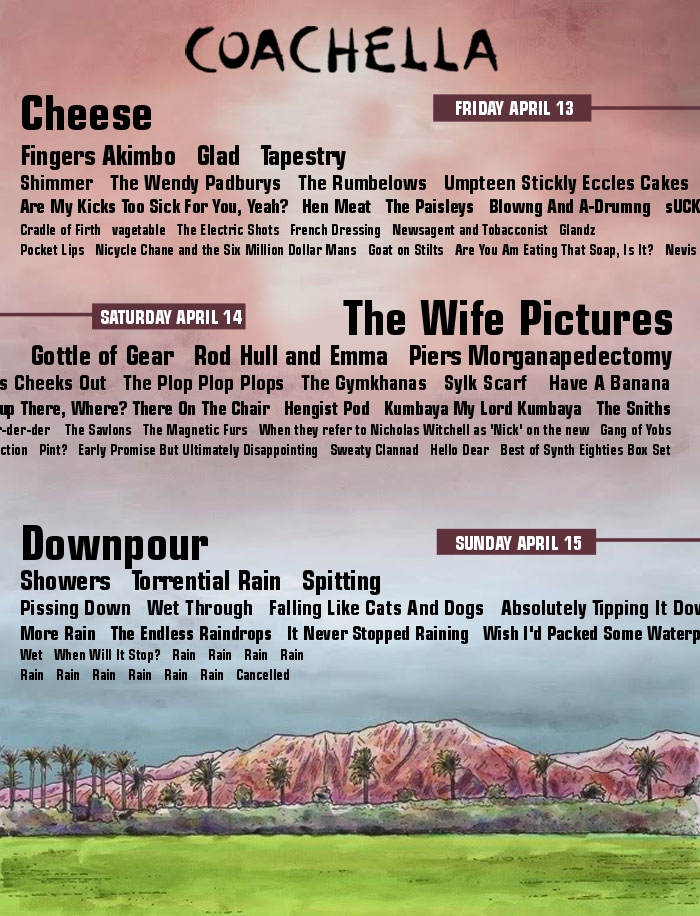 ---
Murray
a fog of ideas wrote:I think I broke that Coachella thing that's doing the rounds:
Bloody hell! Who tempted
Are You Am Eating That Soap, Is It?
out of retirement?
---
Posts: 10543
Joined: Sun Sep 30, 2007 16:33
Location: Sheffields
Contact:
Looks like people from the industry have been reading this thread again.

---
Posts: 141
Joined: Thu Jun 02, 2011 12:55
Last.fm: http://www.last.fm/user/
I told my friend that Dan Treacy was Hugh Grant's brother. Dunno if that counts. She believed me anyway. Got her own back when she told me that, back in Tokyo, she had a pair of hover boots and that she could get me some posted over if I wanted. Did I?! God, I was so excited until she laughed in my face..
---
Who is online
Users browsing this forum: No registered users and 1 guest