Helllooo... just plopping by like a healthy-sized raindrop down your neck to mention a lovely emo-folk-indie-synth-punk* show I'm hosting in Edinburgh next week! We have...
Fresh
(Specialist Subject) (Kathryn solo)
ME REX
(Myles from Fresh's solo emo-pop project)
Tea Leaf
(Tom from Hora Douse's incredible sad folk songs)
~ acoustic tour, the above three all playing solo and accompanying each other in various combinations ~
Blue Tiger
(Mario from Plastic Animals' solo project, fuzzy dreamscapes).
Leith Depot, Edinburgh
8-11pm £6 otd/£5 adv/no-one turned away for skintness.
https://www.wegottickets.com/event/461461
https://freshpunks.bandcamp.com/
https://merex.bandcamp.com/
https://tealeaf.bandcamp.com/
https://bluetigermusic.bandcamp.com/
*I've made a GIF to clarify the genre mix... it's a huge GIF, sorry...
They're also touring across the UK and Europe from next Monday (including the Girl Gang Leeds birthday all-dayer in Leeds), here's the poster!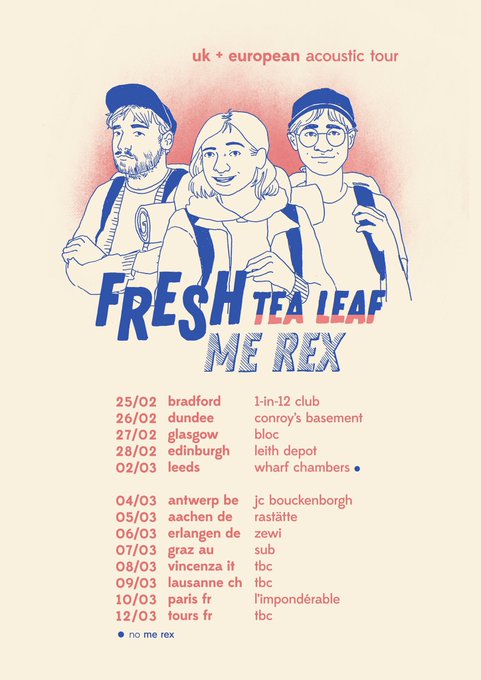 Cheers!