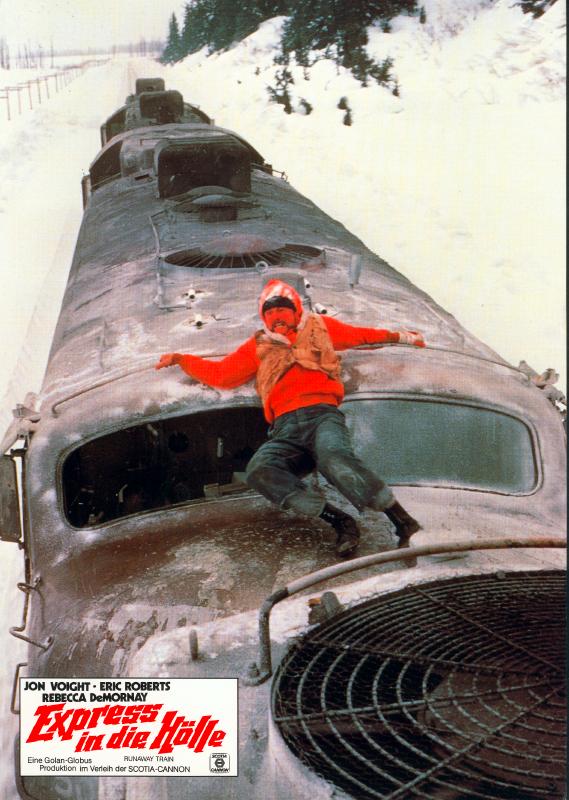 I watched an oldie but a goodie this afternoon, 'runaway train' from 1985, starring jon voight (midnight cowboy, deliverance, angelina jolie's dad) and eric roberts (julia's brother) as a pair of escaped convicts who end up on the titular runaway train with rebecca de mornay for company speeding toward certain death pursued by the brutal vicious prick warden of the maximum security prison they've escaped from.
the movie is bloody, violent, tense and chilly... there's a lot of snow and I needed some extra layers to keep warm just watching it... the idea for the story came from akira kurosawa (the seven samurai, kagemusha, etc), eddie bunker (author of 'no beast so fierce' and 'animal factory', mr blue in 'reservoir dogs') appears in the movie and contributed to the screenplay. danny 'machete' trejo can be seen in a prison boxing match (he's the one you'll think 'hey, that looks like machete').
with the exception of one secretary at the railway dispatcher's office, nobody in this film is in any way remotely glamorous, and none has any film star sheen or gloss, people mostly look knackered, bruised, worn down or fucked up, whether inside or outside the prison walls.
both this and 'the taking of the pelham 1,2,3' suggest the job of a railway dispatcher is up there with bomb disposal expert for stress and tension.
often referred to as the 'most underrated movie of the '80s', there's more to this film than meets the eye, the ending was breathtaking. I loved it.
worth seeking out.